-CT(Chord Tolerance)
It is selected whether parameter of resolution of CI, AA, AR, WG, and EW command is set to chord angle (unit: degree), or it is made chord height (unit: dimension of the present coordinate system). Circle and arc are approximated to polygon and plotted. Angle of parameter means angle to polygonal central point of one side. Moreover, chord height means distance from edge of true circle to one side of polygon. Although such a beautiful circle that parameter of resolution is small and arc are plotted, plot comes to take time.
CT n;
When n is 0, it is set as angle. When n is 1, it is set as chord height. Initial value is 0.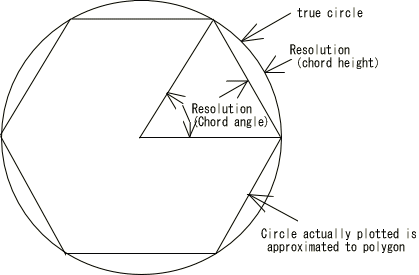 -CI(Circle)
Circle is plotted by specified radius (dimension of the present coordinate system) and resolution centering on position of the present pen. In CI command, PD command is unnecessary. Pen up / down after CI command will be in state before CI command. It will become five angles if resolution is omitted.
CI Radius (,resolution);

SampleCTCI.hgl:
IN;IP0,0,4000,4000;SC0,100,0,100;SP1;
CT0;
PA10,10;
CI10;
PA40,10;
CI10,30;
PA70,10;
CI10,45;
CT1;
PA10,40;
CI10,0.5;
PA40,40;
CI10,1.0;
PA70,40;
CI10,1.5;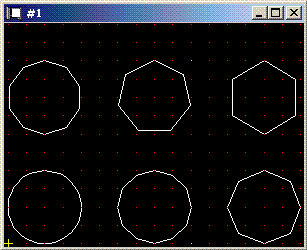 Return to first

-AA(Arc Absolute)
Point (xc, yc) given by absolute coordinate is made into central point, and position of the present pen is made into starting point, and it plots by central angle (unit: degree) and resolution which were specified with parameter. It will become five angles if resolution is omitted.
AA xc, yc, CentralAngle (,Resolution);

SampleAA.hgl:
IN;IP0,0,4000,4000;SC0,100,0,100;SP1;
CT1;
PU;PA5,0;PD;
AA5,5,-180,0.1;
PA15,10;
AA15,5,-180,0.4;
PA5,0;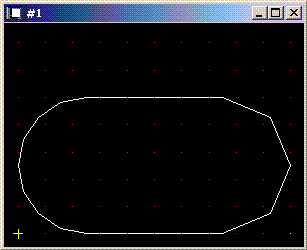 Return to first

-AR(Arc Relative)
Point (xc, yc) given by relative coordinate is made into central point, and position of the present pen is made into starting point, and it plots by central angle (unit: degree) and resolution which were specified with parameter. It will become five angles if resolution is omitted.
AR xc, yc, CentralAngle (,Resolution);

SampleAR.hgl:
IN;IP0,0,4000,4000;SC0,100,0,100;SP1;
CT0;
PU;PA5,0;PD;
AR0,5,-180;
PR10,0;
AR0,-5,-180,30;
PR-10,0;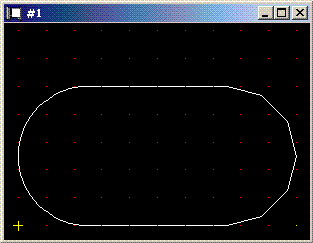 Return to first

-FT(Fill Type)
It is used together with FP, RA, RR, and WG command, and model of shading (painting out and hatching) is specified.
FT (model (,space (,angle)));
Model is as follows. Initial value is 1.

1 Painting out interactive at space specified by PT command (FT command interval and angle are ignored)
2 It is painting out (FT command space and angle are ignored) of the single direction at space specified by PT command.
3 Hatching which is the single direction at space and angle which were specified by FT command
4 It is crossing hatching at space and angle which were specified by FT command.

Space is distance between parallel lines of hatching, and is the present coordinate system. Initial value is 1% of distance between P1 and P2.
Angle indicates unit with angle of hatching with degree. Initial value is 0 degree.

-PT(Pen Thickness)
It is used together with FP, FT, RR, RA, and WG command, and space (unit mm) of painting out is specified between 0.1 and 5.0 in accordance with thickness of pen. Initial value is 0.3mm.
PT PaintingOutSpace;

-WG(Fill Wedge)
It is used with FT and PT command and shading of the inside of Wedge which becomes settled by radius, starting point angle (unit: degree), and resolution centering on the present position is carried out.
WG Radius, StartingAngle, CentralAngle (,Resolution);

SampleWG.hgl;
IN;IP0,0,4000,4000;SC0,100,0,100;SP1;
PU;PA50,50;
FT3,5;
WG50,90,180;
SP2;FT4,5,45;
WG50,270,60;
SP3;FT1;
WG50,330,120;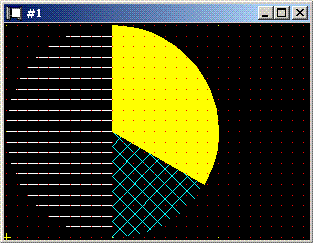 Return to first

-EW(Edge Wedge)
Wedge which becomes settled by radius, starting point angle (unit: degree), and resolution centering on the present position is plotted.
EW Radius, StartingAngle, CentralAngle (,Resolution);

SampleWGEW.hgl;
IN;IP0,0,4000,4000;SC0,100,0,100;SP1;
PU;PA50,50;
FT3,5;
WG50,90,180;
SP2;FT4,5,45;
WG50,270,60;
SP3;FT1;
WG50,330,120;
SP4;
EW50,90,180;
EW50,270,60;
EW50,330,120;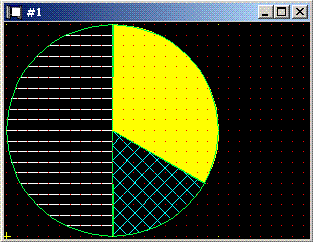 Return to first

-RA(Fill Rectangle Absolute)
It is used with FT and PT command and shading of the inside of rectangle which makes diagonal point coordinates (x, y) specified the present position and here is carried out. Pen position after command and pen up / down state will be in state before command.
RA x,y;

SampleRA.hgl:
IN;IP0,0,4000,4000;SC0,100,0,100;SP1;
PU;PA0,0;
FT1;
RA40,40;
SP2;
FT3,4;
PA60,0;
RA100,40;
SP3;
FT4,4,45;
PA0,60;
RA40,100;
SP4;
FT2;
PA60,60;
RA100,100;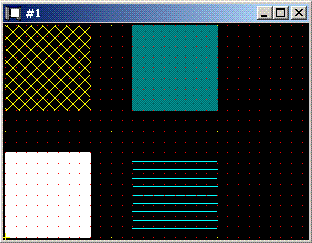 Return to first

-EA(Edge Rectangle Absolute)
Rectangle which makes diagonal coordinates (x, y) specified the present position and here is plotted. Pen position after command and pen up / down state will be in state before command.
EA x,y;

SampleRAEA.hgl:
IN;IP0,0,4000,4000;SC0,100,0,100;SP1;
PU;PA0,0;
FT1;
RA40,40;
SP2;
FT3,4;
PA60,0;
RA100,40;
SP3;
FT4,4,45;
PA0,60;
RA40,100;
SP4;
FT2;
PA60,60;
RA100,100;
SP5;
PA0,0;
EA40,40;
PA60,0;
EA100,40;
PA0,60;
EA40,100;
PA60,60;
EA100,100;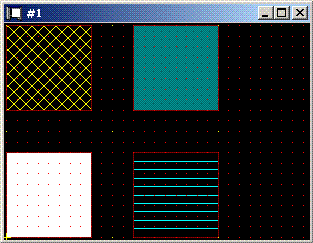 Return to first

-RR(Fill Rectangle Relative)
It is used with FT and PT command and shading of the inside of rectangle which makes diagonal point relative coordinate (x, y) from the present position and there is carried out. Pen position after command and pen up / down state will be in state before command.
RR x,y;

-ER(Edge Rectangle Relative)
Rectangle which makes diagonal relative coordinate (x, y) from the present position and the present position is plotted. Pen position after command and pen up / down state will be in state before command.
ER x,y;

SampleRRER.hgl:
IN;IP0,0,4000,4000;SC0,100,0,100;SP1;
PU;PA0,0;
FT1;
RR40,40;
SP2;
FT3,4;
PA60,0;
RR40,40;
SP3;
FT4,4,45;
PA0,60;
RR40,40;
SP4;
FT2;
PA60,60;
RR40,40;
SP5;
PA0,0;
ER40,40;
PA60,0;
ER40,40;
PA0,60;
ER40,40;
PA60,60;
ER40,40;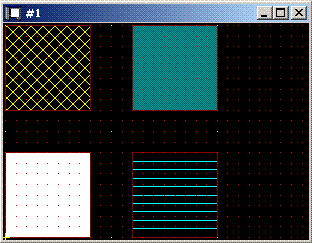 Return to first

-PM(Polygon Mode)
It is made polygon definition mode. PM command is used with PA/PR, PU/PD, AA/AR, CI, and CT command, and can define polygon. Defined polygon is memorized by polygon buffer. EP and FP command are used for plotting defined polygon. Two or more polygons can be defined. When polygon is in polygon, if shading is carried out by FP command, (painting)/(no painting) will be repeated by turns from outside inclusive relation.
PM n;
n is as follows.
0 Polygon buffer is cleared and it is made polygon definition mode.
1 Polygon under definition is closed.
2 Polygon under definition is closed and polygon definition mode is canceled.

Usage :
PM0; Polygon buffer is cleared and it is made polygon definition mode.
Polygon is defined using PA/PR/PU/PD/AA/AR/CI/CT command two or more.
PM1; The 1st polygon is closed.
Polygon is defined using PA/PR/PU/PD/AA/AR/CI/CT command two or more.
PM1; The 2nd polygon is closed.
..... repeat
Polygon is defined using PA/PR/PU/PD/AA/AR/CI/CT command two or more.
PM2; The last polygon is closed and polygon mode is canceled.
FP;EP; Polygonal shading and polygonal perimeter are plotted.

-EP(Edge Polygon)
Perimeter of polygon defined as polygon buffer by PM, PA/PR, PU/PD, AA/AR, CI, and CT command is plotted. Pen position after command and pen up / down state will be in state before command.
EP;

-FP(Fill Polygon)
Shading of the inside of polygon defined as polygon buffer by PM, PA/PR, PU/PD, AA/AR, CI, and CT command is carried out. Pen position after command and pen up / down state will be in state before command.
FP;

SamplePMEPFP.hgl:
IN;IP0,0,4000,4000;SC0,100,0,100;SP1;
PU;PA25,0;
PM0;PD;
AA25,25,-180;
PA75,50;
AA75,25,-180;
PA25,0;
PM1;
PU;PA25,25;
CI10;
PM1;
PU;PA65,15;PD;
PR0,20,20,0,0,-20,-20,0;PU;
PM2;
FT3,2,45;
FP;EP;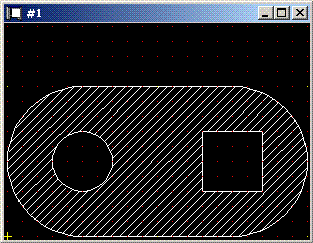 Return to first